Kilimanjaro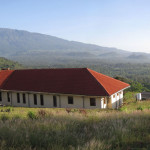 I'm looking at two huge dormant volcanoes that grew out of the stretched and splitting rift valley floor. This is the view from above the house where I'm staying with friends just outside Arusha  – known as the safari capital of Tanzania. Mt. Meru rises steeply above the city and Mt Kilmanjaro dominates the land 50 miles to the east.
These two mighty mountains impress me with their majesty and moods. We get to see them frequently because the international airport was built halfway between them in order to avoid their massive effect on wind and weather. We got to know these two while writing guidebooks about them for Tanzania National Parks  years ago. In addition to their uplifting views and challenging climbs they shared secrets too, their shy wildlife like bushbucks and plume-tailed colobus monkeys, their forests, canyons, ponds, streams and falls of butterflies as well as water.
I'm especially fond of Mt. Meru, a blown out cone (similar to Mt. St. Helens) almost 15,000 ft high and very steep. You can just make out the torn side at the right of the mountain in the picture. Mt. Kilimanjaro is more bulky and going bald in the warming climate, its ice cap melting. Kili is Africa's highest and the world's highest free-standing mountain at 19,340 feet above sea level. Kili is actually composed of three cones –  broad-shouldered Shira, the eroded peak of Mawenzi and indented top of Kibo with its crater and ice-fields.
I'm not a lover of hikes in high cold places. However, the plant and animal life on these rift valley mountains is abundant and extremely attractive. Here are some pictures to give you glimpses of life on the mountains.